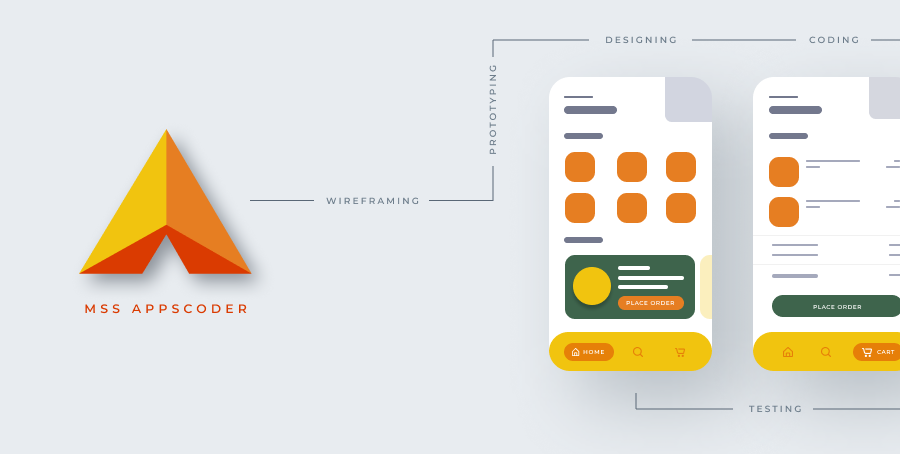 Latest Update
Latest Update
This Is The Right Time To Build An E-Commerce and Delivery App ― Here's Why
When the first news about the Novel Coronavirus hit the headlines, no one had ever fathomed the impact it would have on our lives. By now you must have enough information about this potentially fatal disease unless you are living under a rock in "Bikini Bottom." It has claimed more than 100,000 lives and has affected millions worldwide. And as it continues to rapidly spread, billions are confined to their homes, maintaining social distance. This pandemic has not only seen testing times for consumers but also for businesses. The global economy has experienced a huge shock, and we may be on the brink of recession.
The coronavirus outbreak has significantly changed customer behaviour. There is a fear of contracting this disease and a determination to observe social distancing norms. Increasing numbers of people are preferring to buy essential goods online rather than visit a store.
As a result, the download of e-commerce and delivery apps offering fast-moving consumer goods ( or FMCG ) products has skyrocketed. According to Statista, there was a massive surge in the downloads of grocery delivery apps in the United States at the beginning of March, with Instacart downloads increasing around 218% from February to mid-March as a result of the coronavirus outbreak.
In India, e-grocers like Grofers, Amazon Pantry, Flipkart Grocery, and Big Basket are already experiencing high volumes of delivery requests and are planning to increase their manpower. Grofers CEO Albinder Dhindsa said,
"We are already seeing 8-10 times more demand than we can serve right now."
And this demand is only going to increase even after we have overcome the pandemic. Here's what Devendra Chawla, MD of Spencer's Retail and Nature's Basket had to say,
"Out-of-store delivery business has emerged as the preferred route for consumers and could be sizeable for some time post the lockdown,"
In other words, we can expect huge increase in the e-commerce industry in the foreseeable future.
Businesses With Physical Outlets And Stores Have Had A Major Setback
Mandatory Stay-at-home orders issued during the pandemic are adversely affecting brick-and-mortar stores the most. With very few options available to them, they are scrambling to keep their business afloat. To keep their business running some local retail store  are now partnering with delivery-based businesses, like Dunzo, Swiggy, Rapido, and Zomato as well as other e-commerce companies, to cater to increased orders as customers are buying essentials in bulk. With "No-Contact" and "Doorstep" delivery options, consumers can now get their essential goods with just a click of a button, that too while staying safe at home.
Looks like COVID-19 is literally pushing brands to digitize their businesses and choose e-commerce.
Since most governments have exempted e-commerce businesses from lockdown this platform has become one of the best options for these stores to increase sales. For India the good news is, the government is also planning to ease the restrictions on online sales of non-essentials from April 21, allowing brands to make the most out of the situation and establish a powerful online presence.
And this will not just help businesses during the lockdown, but it will  prove to be beneficial even after the lockdown is lifted and the stores or malls re-open.
How?
According to a report by Oberlo, the total global e-commerce retail sales are estimated to hit more than $6.5 trillion by the year 2023, on which more than 22% transaction will be done online. This report was created without keeping the pandemic in mind, proving that online shopping and delivery services are only going to increase considerably during the pandemic. And as people are likely to maintain social distancing for some time even after the lockdown is lifted, the surge in online sales and home deliveries is going to last for several months. So, if you own a physical store and are looking for a way to retain your customer base, now would be a good time to build your e-commerce or delivery app.
Increased Usability Direct Interaction
Sure there are other delivery-based businesses you can partner with and easily maintain your supply chain. But, isn't it better to cut off the middle man and stay connected with your customer directly? And to use an app tailor-made for your specific needs? E-commerce and grocery delivery apps not only keep the customers engaged with your brand, but also helps you deliver custom offers, coupons, and deals to your customers effectively.
How Is An E-Commerce App Or A Delivery App Going To Be Beneficial?
With the wide spread of COVID-19 and everyone being on part or complete lockdown, people are spending considerable time digitally. The only practical approach to connect with the consumer and maintain revenue growth is through an app. As per Statista, consumers are likely to download 139 billion mobile apps from the Google Play Store alone by the year 2024. That's a whopping amount! You don't want to miss out on this opportunity to engage with your customers.
So, here's how an e-commerce app or a delivery app can benefit your business.
Improved Visibility
An e-commerce and delivery app during these testing times is, without a doubt, the best way to secure an excellent spot on the digital map. Especially if your app is carefully designed to enhance User Interface and User Experience and caters to what people want right now. It is sure to help you outrank your competitors and achieve higher chances of conversions.
Enhanced Revenue Generation
With e-commerce apps, you can be sure to satisfy your customers' needs during the pandemic as well as boost sales significantly. A functional, well-executed, and high-performance app will undoubtedly capture the attention of your target audience. As a result of which, it will draw customers and increase profit margins. It also helps in maintaining brand credibility and increase sales by motivating people to order immediately.
Customer Loyalty
Maintaining customer loyalty can be challenging during this pandemic. With other options readily available to your customers, they can easily opt for a brand that provides delivery services. You wouldn't want that. A personalised e-commerce and delivery app not only adds value to your business but also is an excellent way to foster customer loyalty.
Now that we've covered the benefits, let's get to the part where we come into the picture.
We are an established mobile app development companies in India with more than a decade of experience. Over the years, we have seen the evolution of application development and are passionate about creating groundbreaking custom applications. Our goal is to take digital experience to new heights with our development and technology consulting expertise. We are passionate about creating innovative strategies and impactful solutions. By focusing on user experience, we help you transform the future of your business.
What Makes Us Different?
We merge data with human-centred designs to build brands.
We ensure you move towards digital transformation effortlessly.
We define and implement groundbreaking strategies to achieve business goals.
We rely on cutting-edge technologies and techniques throughout the development process.
We create applications that grab the attention of your audience and boost business growth.
We deliver future-ready, high-performance, secure, and well-optimised Android and iOS apps.
We deliver prompt solutions and never compromise on quality.
From concept to development, launch, optimisation, support, and maintenance, rely on us. You will receive a complete solution to your problems.
Build an e-commerce delivery app and gain an edge over your competitors. Even large brands and retail stores have started gearing up to the after-effects of the pandemic and switching to e-commerce solutions. You should too!
If you are looking for an affordable app development solution, we can help! Get in touch with us today!