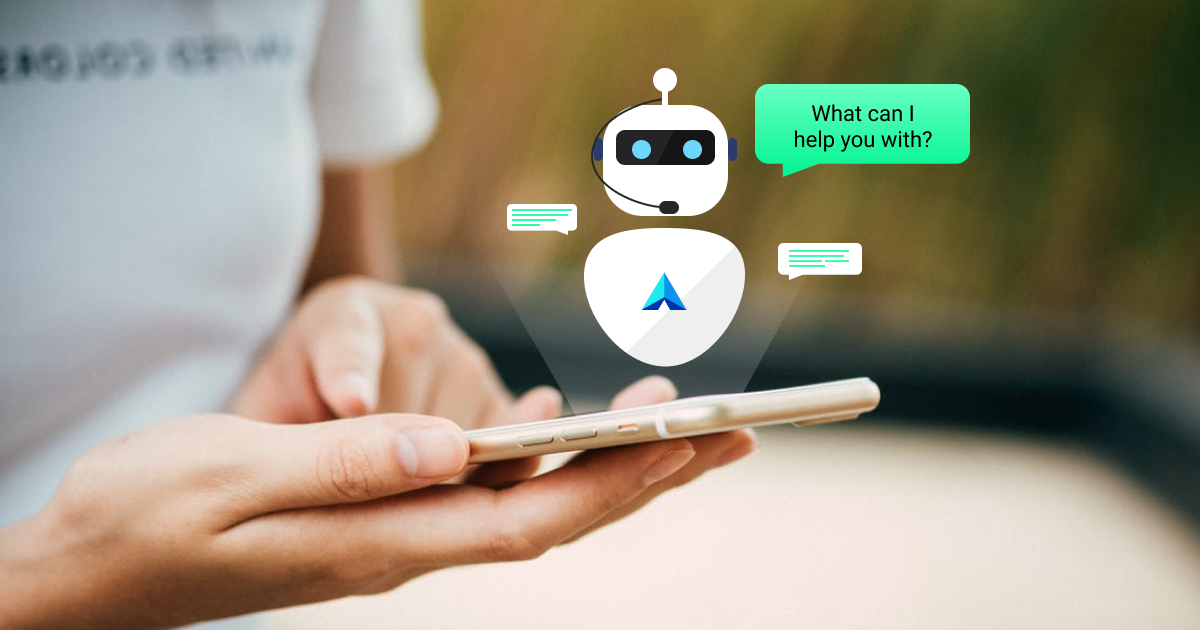 Latest Update
Latest Update
Chatbot: The Trends, Statistics & What The Future Holds
Artificial Intelligence (AI) has transformed the world of business. From streamlining business processes to improving customer service, AI has certainly been a boon. Today, Artificial Intelligence has become an essential part of companies from almost every industry. One such AI that has been making waves in the business world are Chatbots.
The chatbot market is evolving faster than you think. And today, it is dominating the business landscape. It has been creating new paradigms for the way consumers can access information about a brand as well as interact with them. Businesses, large and small, use chatbots to strengthen customer relationships and establish a strong brand image.
In today's digital era, consumers expect round the clock service, whether it is to help them troubleshoot a technical issue or answer general queries. And this is where chatbots have been able to help businesses deliver impeccable customer service. Especially in times like these where the world is more and more dependent on digital tools and virtual assistance, brands have been able to cater to customers more efficiently through chatbots.
So What Exactly Is A Chatbot?
A chatbot is nothing but a software application that can conduct an on-line chat conversation via text or text-to-speech. The AI software can simulate a conversation like a live human agent through websites, messaging applications, and mobile apps. They offer instantaneous responses which is one of the reasons why they are gaining tremendous popularity. Today, different sectors and industries use chatbots for a variety of purposes.
Chatbots have been highly beneficial for businesses during these trying times. The COVID-19 outbreak has caused an enormous influx of customer service requests. Hence, to cater to all the queries and requests efficiently, businesses needed to automate more of the conversations. And chatbots proved to be an excellent solution for it.
So, that was about chatbots. Now let's take a look at the chatbot trends that every business should know.
5 Latest Chatbot Trends
In 2019, the chatbot market was valued at $17.17 billion and estimated to reach $102.29 billion by the year 2025. Over the forecast period 2020 – 2025, the chatbot market is expected to record a CAGR of 34.75%. As the use of chatbots increases rapidly, it has also been giving businesses new opportunities to deliver personalised customer service and foster customer loyalty.
We'll now list out five chatbot trends you should watch out for in the coming year.
Voice Bots Becomes More Mainstream
As voice search and voice assistants are gaining popularity, we can see voice chatbots becoming more mainstream. Also, the fact that the accuracy of voice recognition technology continues to improve and the addition of several exceptional services can assist businesses to help consumers more effectively than ever before. According to Accenture, the messaging platforms that include both text-based and voice interfaces are a more preferred method of engagement by digital consumers across industries. Companies have noticed that voice bots provide the most suitable solutions to both customers and representatives in various areas. Today, it has been helping numerous sectors such as insurance, education, financial services, and travel.
Chatbots Automate Payments
With the help of chatbots, businesses are improving the way they interact with customers as well as automate payments. Chatbots will not only help brands automate simple payments but also allow the users to pay directly via live chat or even the Facebook Messenger app. This instant process will increase customer satisfaction and conversion rates. Chatbots Magazine states that 67% of US millennials are likely to use chatbots to buy products or services from brands.
Significant Growth In The Healthcare Sector
The average number of patients spend around 30 minutes trying to find the right service or medical professional to help them. But with the help of chatbots, all this can change. Today, healthcare organisations are continually partnering with chatbot companies to assist patients better and quicker. Many leading health systems agree that chatbots facilitate a thorough conversational discovery which helps them provide flawless services. It enables them to provide seamless scheduling for their patients. Similarly, with the help of conversational AI agents, patients can now track specialists as well as set up referrals in a single conversation.
Enterprises To Use Chatbots for Internal Processes
Chatbots are not just about providing impeccable customer service. It can also streamline the internal workflows for businesses, delivering unparalleled business value. From human resource to internal help desk, employee onboarding, and much more, chatbots can be used across the enterprise to improve the overall efficiency and experience of the user or employees.
More Customer Care Centres Will Leverage Chatbots
With consumers likely to maintain social distancing for the next couple of months, call centres or customer care centres have been taking advantage of chatbots to help their customers. And they have been transforming call centres worldwide. Chatbots can decrease customer service costs by around 30%, provide round the clock support, streamline call centre experience, recommend products or services through predictive analysis, etc.
These are the five chatbot trends that you should look forward to and consider implementing them in your business.
We'll now look at some chatbot statistics, and later we'll discuss the future of chatbots.
Some Chatbots Statistics You Should Know
Here are the essential chatbot statistics you should know. These stats provide an insight into the future of chatbot.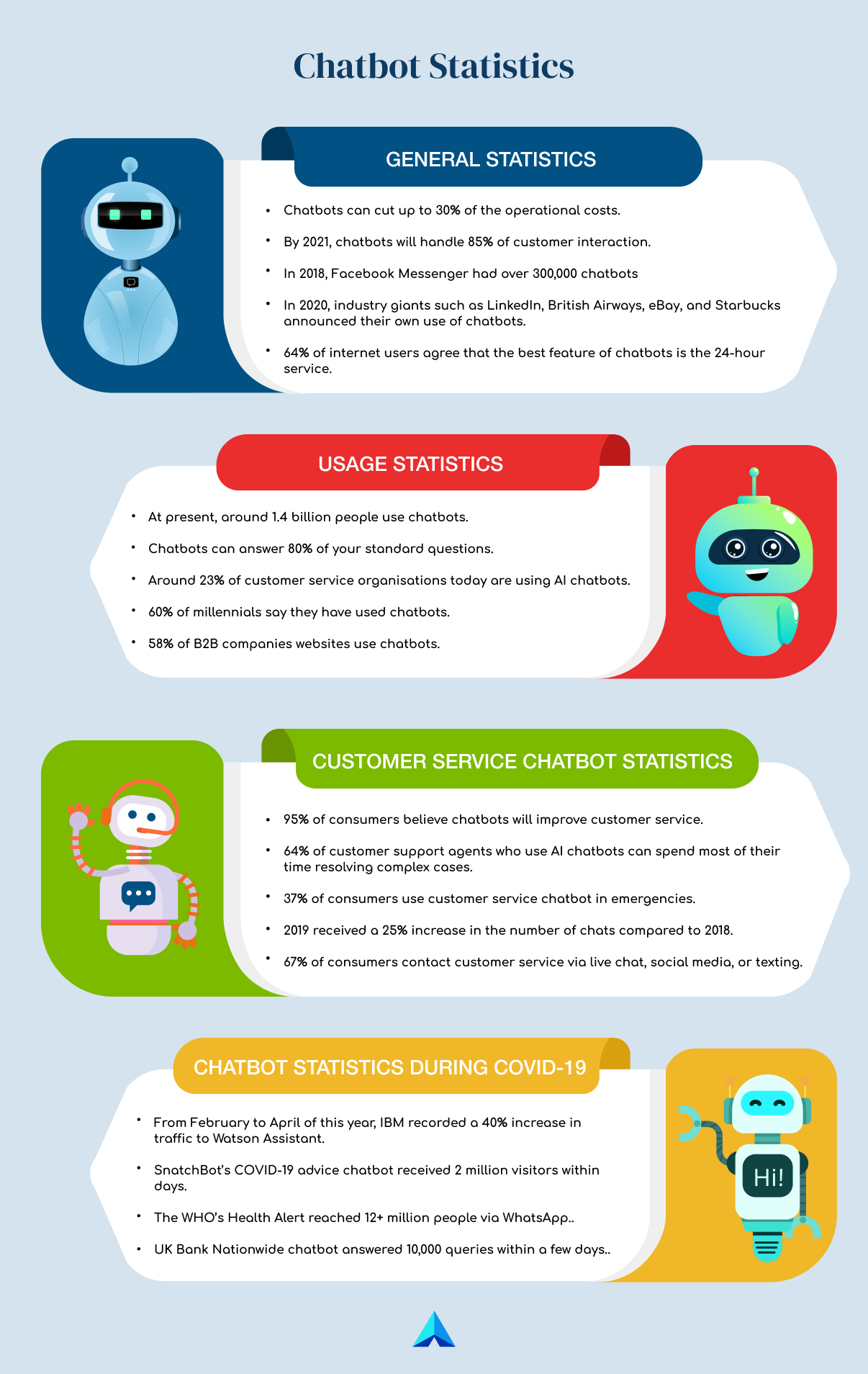 Future Of Chatbots
According to Gartner, AI, in the next couple of years, will be a mainstream customer experience investment for several businesses. The company also states that 47% of organisations will use chatbots for customer care. And as the world of technology grows exponentially, you can expect chatbots to a mainstream customer service tool in the coming future.
You must agree that chatbots are one of the most beneficial innovations today. It will help bridge the gap between enterprises and their target consumer and more become efficient. As chatbots become more popular, we can expect them to be more human-like in the future with the ability to resolve complex issues. Not just that. It will become the driving force for businesses to survive and thrive in the new normal.
Here's what Marco Casalaina, senior VP of product management for Einstein, the AI initiatives at Salesforce, had to say about the future of chatbots –
"Chatbot usage is going to continue to grow, driven by improved NLP (Natural language processing) technologies. Chatbots will become easier to add and easier to set up. Conversation design will be simpler."
In the future, Chatbots will not only help provide personalised customer experience it will also enhance the way we provide support, reinvent recruitment process, gain in-depth consumer insight, and much more.
Final Thoughts
As you may already know, the Coronavirus outbreak accelerated digitalisation at an unprecedented rate. It increased the need for communication automation across all industries. With demands skyrocketing, chatbots became the go-to solutions for businesses from various industries.
Despite the rocky start, chatbots have now become an integral part of the businesses across industries. And as enterprises realise its potential, we can now see it gaining popularity, acceptance, as well as efficacy. Today, companies are focusing on improving the various ways chatbots can prove to be beneficial. Chatbots can open a gamut of new opportunities for business across the board.
Want to learn more about chatbots? Speak to the experts today!