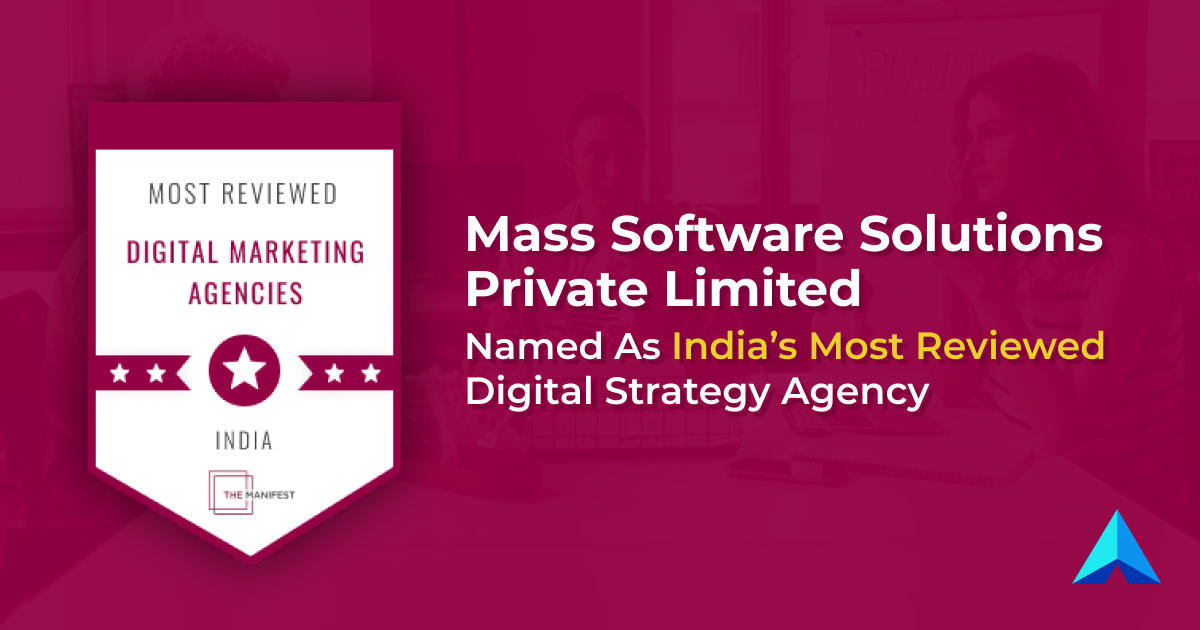 Blog
Blog
Mass Software Solutions Private Limited Named as India's Most Reviewed Digital Strategy Agency
Known as one of the pioneers in the custom development scene, Mass Software Solutions Private Limited is a top-notch service provider that has 20 years of priceless experience. We've been in the business for quite some time now, and looking back at the hurdles and experiences we've faced, we're absolutely proud to be where we are today. Our impact in the industry goes on and on, but today, we officially celebrate one of our most prized achievements! Most recently, we've been recognized by The Manifest as India's top recommended digital strategy services provider for 2021!
To give you a sense of how much this means to us, let us share with you our story:
Located in the heart of Kolkata, India, Mass Software Solutions Private Limited was established back in 2001 with a goal to be a reliable partner for startups and businesses. We pride ourselves on the quality of our work and the extensive range of our services. Whether it's web development, app development, digital strategy, or web design, our team is dedicated to helping you achieve your vision.
Our unique approach when it comes to handling projects has gained the confidence of our clients. We've built incredible relationships and relationships along with the services we provide.
For us, what our clients think is important, that's why we are extremely excited when we found out that we were reverently recommended!
Mass Software Solutions Private Limited is part of the official list on The Manifest! For those who aren't familiar with them, The Manifest is a business news platform designed to help corporate buyers and service providers learn more about the B2B industries.
This recognition reflects the quality of our work, pricing, ability to handle project management, and overall client satisfaction rate. We are listed among the top 15 service providers in the country, and that is a huge feat!
Celebrating this along with our 20th year in the business is truly something. We look forward to continuing to grow and improving as a team.
We deliver technology solutions that help your business to reach its potential! Your idea and our technology partners to build a winning outcome! Have an incredible idea you want to discuss?
Send us a message.