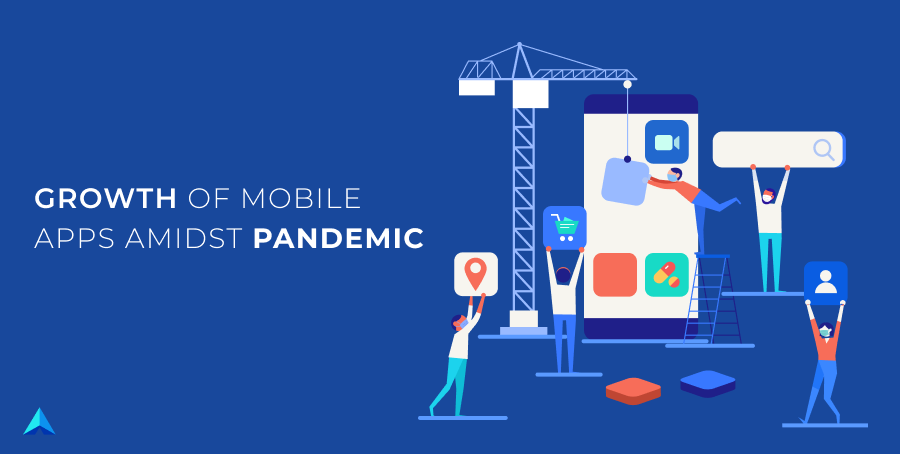 Latest Update
Latest Update
The Remarkable Growth Of Mobile Apps Amidst COVID-19 Outbreak
Coronavirus changed the course of human history. Since the beginning of 2020, the world has been facing the worst humanitarian crisis. The world economy has taken a tremendous hit which may take years to recover. Not just that. The self-isolation, home quarantine, and social distancing protocols have caused immense psychological distress to everyone.
As for the business world, COVID-19 has not been easy on them either. Companies from manufacturing, travel and tourism, entertainment, real estate, fashion, sports, and hyperlocal marketplaces industries have experienced significant fiscal shocks. Several businesses have shut down due to unforeseeable circumstances.
COVID-19 And Mobile Apps
Although the current times have been devastating enough for businesses worldwide, mobile apps have emerged as champions. When all hope seemed lost, mobile apps became a trusted ally when the entire world was caged in their homes, adhering to government laid protocols.
You must agree that mobile apps have made our lives much more convenient and efficient. During the pandemic, the use of on-demand delivery, healthcare, e-commerce, grocery, online education, entertainment, and payment apps skyrocketed. And this demand led to a tremendous increase in mobile app development. Mobile apps have also opened incredible opportunities for small businesses, improving their sales and enhancing business growth.
Mobile App Usage And Development Statistics During The Pandemic
Consumers spent a whopping 1.6 trillion hours on their smartphones during the first half of 2020, increasing the time spent on business apps by 220%.
A record high of $50 billion was spent in in-app purchases by users in the second quarter of 2020.
In the first quarter of 2020, a total of 24.3 billion app downloads in Google Play and 9.3 million apps in Apple App Store was recorded.
As of the 1st quarter of 2020, there are about 2.56 million apps in Google Play Store and 1.85 million in Apple App Store.

Why Does Your Business Need A Mobile App Right Now?
Visibility And Availability
In today's digital era, mobile apps are an excellent tool that can enhance your brand awareness and recognition. Not just that. It is also a great way to improve customer service. Also, you gain your customer's trust by letting them know that you are available round the clock and just a click away.
Enhances Customer Engagement
A mobile app can make a tremendous difference in the way you communicate with your consumers. Since most of us are hooked on to our mobile phone during the pandemic, it allows you to reach out to your audience with ease. The best part is, with mobile apps, you can connect with your customers anytime, anywhere. A well-designed, high-performance mobile app with the right features improves your customer engagement rate significantly. Push notifications are also a superb way to engage with your customers. Studies show, mobile phone users open 60% of the push notifications and 40% of them go to the app as soon as they receive it.
Great Marketing Tool
Through mobile apps, you can gain in-depth insight into your customer's behaviour, making it easier for you to customise marketing strategies. You can also identify your loyal customers and create tailor-made offers or rewards to celebrate them. By incorporating the geo-location functionality in your app, you can inform the user about the special offers, seasonal offers, events, etc. in their location.
Adds Value To Your Customers
Mobile apps help businesses offer their customers personalised customer services that enhance their user experience and brand credibility. From the consumer behaviour insight you gain, you can create special loyalty programs, offer bonuses or points, subscribers-only deals, etc. that adds value to your customers. By doing this, you ultimately motivate the users to purchase your services or products.
Fosters Customer Loyalty
Mobile apps give you an added benefit of enhancing customer loyalty. Which, in turn, can boost business growth. With apps, you can remind your customers of your offerings and your existence, without being intrusive. It helps forge an honest relationship between your customer and your business, keeping your customers more connected and loyal to you.
Mobile App Development At Mass Software Solutions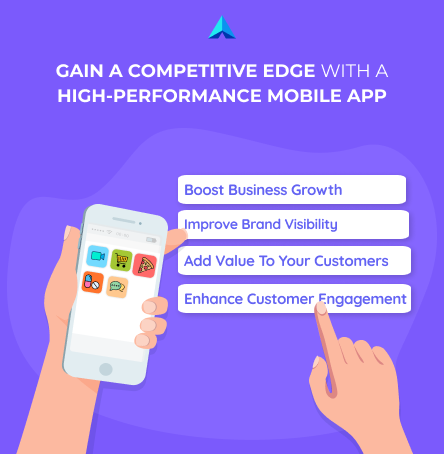 We build enterprise-grade mobile applications that guarantee business growth.
At Mass Software Solution, we believe in transforming digital challenges into profitable business opportunities. We have been building award-winning, world-class mobile apps for over a decade and have experience across every significant industry.
Our goal is to empower businesses with high-performance, user-friendly, and future-ready mobile apps that help them become industry leaders. We create products that deliver value to your brand and drive customer loyalty. With us, you get diligent team players who have the expertise to design, develop, and market mobile apps across all platforms.
From concept to app optimisation, launch, support, and maintenance, rely on us for the complete app development solution. We focus on doing what's best for our clients and their business, irrespective of the size, industry, or requirements.
Using leading project management and communication tools, such as Slack, Jira, Trello, etc. you can collaborate with your dedicated team anytime, anywhere. Our team specialises in:
Progressive Web Applications
Responsive Websites
Single-page Applications
E-commerce Applications
Custom Web Applications
Open Source CMS Development
Android Applications
iOS Application
React Native Mobile Applications
Hybrid Apps
Our team believes in harmonising your digital world and focuses on creating a great user experience. We unify data with human-centred designs to build brands through our mobile app development solutions. We like to keep the entire process simple and transparent.

List Of Apps That Gained Popularity During The Pandemic
While mobile gaming and social media apps are still one of the most used mobile apps during COVID-19, several other apps also managed to steal the limelight. They include:
Healthcare Apps
One of the most necessary and frequently used apps, healthcare apps gained tremendous popularity in the past couple of months. According to reports, the total global mHealth market will reach nearly $100 billion in 2021 and will grow above $11 billion by 2025. Today, you'll find a plethora of healthcare apps in the various app stores, including on-demand medicine delivery apps, fitness apps, mental healthcare apps, etc.
Remote Work Apps
There has been a surge in the use of remote work applications since the Coronavirus outbreak. As most of us are working from home, these apps have been highly beneficial. A few of the most preferred remote work apps include Zoom, Microsoft teams, Skype, Slack, DingTalk, Google Meet, Zapier, Dropbox, Evernote, etc.
Online Educational Apps
Even the education industry has been leveraging the benefits of mobile apps. Due to COVID-19, every university and institution is shut down for an uncertain time. And this has led to a disruption of education and impacted the lives of the students. As a result, education facilities are now resorting to digital tools and platforms to help enrich and inspire the students to grow and succeed. Today, the App Store alone features more than 75,000 education apps.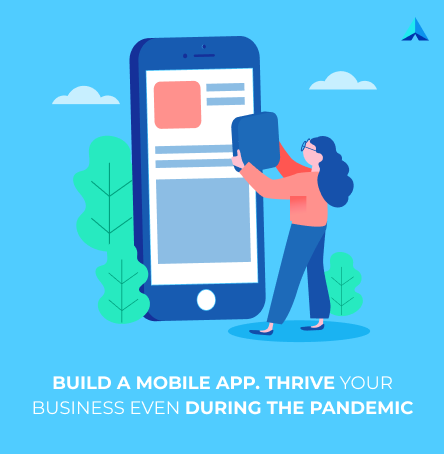 Final Thought
Coronavirus outbreak has turned the world upside down, redefining normality. Businesses are still trying their best to recover from this global crisis, whether it is in the form of complete digital transformation or reevaluating business model. The ideal way to make the most out of this present situation is for entrepreneurs to transform their business idea into a full-scale mobile app. A mobile app can help brands withstand the global crisis and boost business growth.
Looking to build a mobile app for your business?
We can help! Contact us and get a FREE consultation!