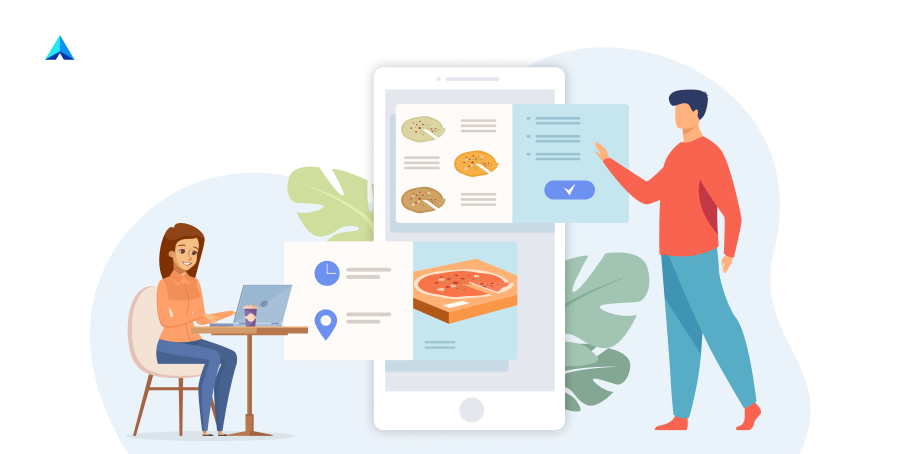 Latest Update
Latest Update
Food Ordering Progressive Web Application – How It Will Revolutionise Your Restaurant Business
Don't you love how easily you can get your favourite food delivered at your doorstep today? All you have to do is place an order through your preferred app, and it reaches you within minutes. It's as simple as that. From curbing your late-night cravings to the times when you don't have the strength to cook after a hectic day at work, food delivery apps have made our lives much more comfortable. The ability to get hot, fresh, and delicious food with just a tap of a button is incredible. Isn't it?
Today, the food delivery business is one of the fastest-growing industries. According to research, online ordering and delivery service has been increasing 300% faster than dine-in traffic since 2014.
Why do you think people prefer ordering food online? Most of the people would rather order food through an app than go out to eat merely due to the fact it's much more convenient. The plethora of restaurant, bistro, food joint, and cafe options doesn't make it easier to decide where to dine either. Around 63% of the consumers agree that they find it more convenient to choose a food delivery service than dine out. The idea of being able to order food online at any time, anywhere, has certainly enthralled millions, especially Millennials and Gen Z.
Effect Of COVID-19 In Online Food Delivery
The global pandemic has had a tremendous effect on people who prefer going out to eat. With billions locked down, online food delivery is in more demand than ever before. People will maintain social distancing for months after the lockdown is over. So you can expect a surge in online food delivery. Studies show that in 2020, the online food delivery services market will grow $111.32 billion at a growth rate of 3.61%. It is likely to reach $154.34 billion in 2023 at CAGR of 11.51%.
Coronavirus has not only impacted the global economy but consumer behaviour as well. Having to prepare meals throughout the week that too three times a day, until the lockdown ends, has many consumers turning to online food ordering apps. Take a look at some of these food delivery service statistics during the pandemic:
69% of the consumers ordered food delivery or take out from restaurants
71% of the order from restaurants used to be dine-ins before the crisis
Top two choices for restaurant types for take-out or food delivery were pizza (79%) and fast food (52%)
87% of the orders were to a specific local restaurant
Developing A Food Delivery App Can Be Beneficial For Your Restaurant
There is a myriad of third-party food delivery brands other there today. So you must be wondering, is it better to use them instead of building an app for your restaurant? Well, using one of these food delivery providers may seem an excellent option. But, there are several disadvantages to it as well. The main downside is that you have to pay a hefty commission fee. Also, you have no control over the delivery experience. Did you know that 80% of the customers blame the restaurant and not the delivery services for a bad experience? A poor customer experience hurt your business. Worst case scenario, you may even end up losing them.
An in-house food delivery app can limit these challenges. Plus, you get various added benefits as well! With custom food delivery app, you can –
Expand your reach – Research shows that 60% of the consumers chose to order food directly from the restaurant itself. So, if you build an app for your restaurant, you could potentially reach a vast range of customers who want to order directly from your restaurant.
Save time and money – As we mentioned earlier, you pay a large amount of commission to these third-party delivery service providers. But, building an app is a one-time cost. Besides that, you actually save a lot of time by delivering the food directly.
Improve customer experience – By training your staff to deliver prompt and high-quality services, you boost customer experience, which, in turn, enhances brand credibility and customer loyalty.

Removes communication barriers – With a custom food delivery app for your restaurant, you exactly know how your customer would like their meals. Also, you can gain insight as well as feedback to create personalised offers.
Increase profit margins – Due to the global pandemic outbreak, people will likely want to order food online rather than go out to eat. And this is precisely when a custom app comes in handy. Restaurants who have implemented online ordering have noticed an impressive 11 to 20% boost in sales. Your customers can order directly from the app without having to pay extra to the third-party service providers.
Today, global brands are struggling to keep their business afloat because of the Coronavirus outbreak. The F&B industry has taken a tremendous hit, pushing them to rely on digital platforms and expedite their digital transformation. It only confirms that the complete digitisation of businesses will be the "New Normal" post-pandemic.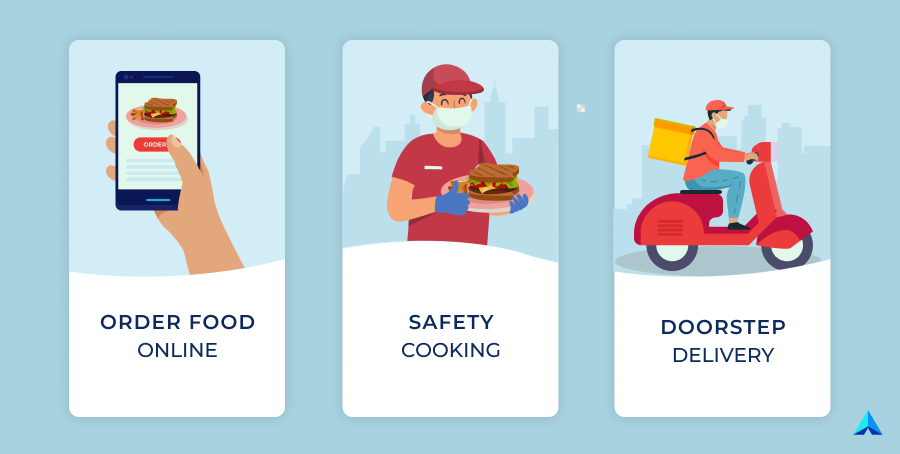 Food Ordering Mobile Applications
A few years ago, when there was a boom in mobile app development, most of the restaurants started creating mobile-based applications for their business. Then came the online food ordering apps like Swiggy, Zomato, FreshMenu, Postmates, and even UberEats. And this only meant that the competition increased tremendously and quite rapidly.
Food ordering native apps have been an excellent way for restaurants to improve visibility, increase customer base, and boost profit margins. But, there are a few drawbacks to them as well. For starters, the app development cost is very high and developing the app compatible with various platforms can be a hassle. Plus, these apps often consume a lot of space on the mobile device, which is a complete turn off for users and hesitate to download the app in the first place. If you even convince them to download your app, the user-friendliness and performance play a pivotal role. Consumers do not have the patience to learn new functionalities of the app. If it is difficult to navigate or crashes while ordering the food, it is most likely to be deleted immediately. You only end up losing your customers, which you do not want. With the competition rising, restaurant businesses need to up their game and find better ways to retain their customers as well as find new ones.
How can you avoid these challenges?
Enter PWA, aka Progressive Web Application.
Progressive Web Applications offer a more convenient and cohesion platform for users to engage with the restaurant business. These apps have a higher level of functional capabilities, making it much easier to order food online.Progressive web applications may look and feel like a native app, but they are entirely different. These applications are lighter, faster, deliver excellent user experience, work offline, and do not need any download.
PWAs have been highly beneficial for various businesses from the F&B industry. Starbucks PWA is 99.84% smaller in size than the existing iOS app. Also, their number of daily active users has doubled. Not to forget, Swiggy's orders have increased by 2.7 times since they shifted to a progressive web application.
Why Should You Build A Progressive Web App For Your Restaurant?
One of the main reasons why you should choose PWA being that it works flawlessly irrespective of the internet connection speed. They are much more reliable than traditional mobile apps. In addition to that, food ordering progressive web apps:
Increase mobile traffic by more than 68%
Load and install 15 x faster
Build customer loyalty
Improve user engagement
Excellent platform to promote offers and coupons
May increase conversions by 52% approximately
Bounce rate may reduce by 42.86%
Average page load time will be about 2.75 seconds
Today, leading brands from a wide variety of industries have switched to progressive web applications. They include Twitter, Forbes, AliExpress, Flipkart, and more.
PWAs have been a game-changer for the food and restaurant industry. It is a powerful digital tool that offers exceptional opportunities and ensures higher profit margins. It gives restaurant businesses a competitive edge in the market. From improved customer interactions to increased conversions, these apps can unquestionably add value to your business. The best part is, the development and maintenance of PWAs are less expensive than traditional apps.
So, whether you're a startup or already have an established restaurant business, it's time you leverage this state of the art technology and build your delivery app.
Ready to transform the future of your business with a revolutionary food ordering progressive web app?
We can help!
To discuss your requirements or for any queries about PWAs, get in touch with us.