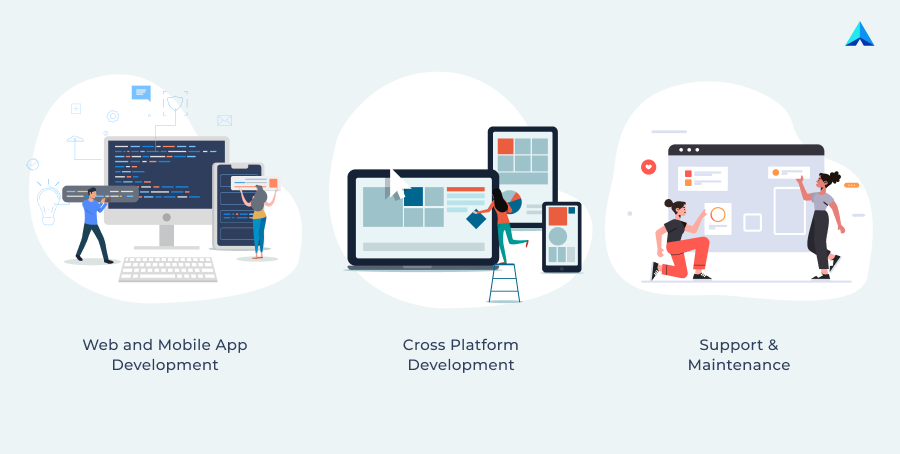 Latest Update
Latest Update
Advantages You Receive By Hiring A Dedicated Web & Mobile App Development, Support, & Maintenance Team
The Coronavirus outbreak has had a crippling effect, redefining the way we live and resulting in everyday economic shifts. It has compelled global brands to reevaluate their business model. But, the pandemic has brought forth some new opportunities for businesses. Not just that. It has also fast-tracked the process of complete digitisation.
As businesses move toward digital transformation, one sector that has seen a surge in demand is mobile app development. Since people are self-isolating and maintaining social distancing, they are spending a significant amount of time on their smartphones browsing through the various apps. There's no surprise that there has been a meteoric growth in app downloads and usage in the past few months. As per research, around 22.5 billion new apps were downloaded by consumers on Google Play alone in the first quarter of 2020.
Organisations, from startups to global brands, have now started leveraging on this opportunity to reach and expand their customer base. Over the past few months, the number of new apps created has significantly increased. As per Statista, from March 2 to 16, home education and remote work app downloads in the United States alone has increased by 1,457%.
Mobile apps have been able to generate billions of dollars of revenue via in-app purchases and subscriptions. As per predictions, mobile apps will generate more than $935 billion in 2023.
Although the mobile app development demand has increased considerably, COVID-19 outbreak has not made it easy for businesses looking to build an app or even maintain it.
Challenges Faced By Companies Working Remotely
The global Coronavirus outbreak forced companies, large and small, to work remotely from the safety of their homes. Not all organisations were prepared for it or had the resources to work from home efficiently. Studies show, 54% of IT professionals think remote workers are a higher security risk and 20% of the remote workers identify communication and loneliness as an obstacle. Some of the challenges faced by organisations in remote working were:
Rethink business processes
Manage remote app development and IT teams
Unstable network connections
Design a work from home model
Shift to virtual collaboration for different remote locations
Meet business continuity needs
Reform inadequate IT infrastructure
Improve efforts around scalability of the cloud
While companies choose to downsize due to the unavailability of work from the home model, not to forget, the hit in the economy, others are looking for alternatives.
You must be wondering what these alternatives are.
Well, the answer to that question is, outsourcing your app development and support requirements to a dedicated team. Hiring a dedicated team to build and maintain your app or even to provide support can be an excellent solution, especially during the current situation. A dedicated team is similar to your in-house team working remotely but with an added advantage. By advantage, we mean the infrastructure to provide a complete solution.
Choosing A Dedicated Team For App Development, Support, And Maintenance
In the universe of application development, dedicated app development teams secure the top spot. Today, the need for outsourcing app development is increasing rapidly. Around 37% of SMEs businesses outsource their IT services and app development requirements. 24% of the businesses choose to outsource essentially to boost their efficiency, and 18% of them require expert assistance.
Employing a team that can help develop, maintain, as well as provide support can serve you in various ways. To build a world-class mobile app or any digital product for that matter, you require a dedicated infrastructure. And this includes a dedicated development team, robust delivery centres, and IT infrastructure. If your core enterprise is not a technology, your only option is to either build a team or outsource your requirement. Outsourcing is a much better option. Here's why.
Benefits Of Hiring A Complete Dedicated Team For Your Mobile App Development
With an outsourced team, you get a variety of skills, wealth of experience, improved efficiency, and people who are flexible enough to accommodate various time zones. Apart from that, hiring a dedicated team can:
Improve Project Outcomes
When it comes to mobile app development, there are several factors you need to consider. From the design to the functionality, user experience, and execution, there may be unforeseeable delays and errors. A dedicated team assumes overall responsibility from the very start who is responsible and keeps the project on track. They make sure your app development project outcome is flawless from beginning to end.
Better Turnaround Time
A dedicated team is very committed to and highly professional about client satisfaction. They make sure the clients are in the loop, share important updates, and keep them informed about every step of the app development process. And thanks to the abundant resources available to them, they can carry out critical projects efficiently, exceed your expectations, and meet your every demand.
Lower Operational Costs
One of the main advantages of choosing to outsource app development to a dedicated team is that it's cost-efficient. You directly save more than 50% of your costs. You get a team of experts with the complete infrastructure at a price that lets you have more budget for other activities like marketing and sales. The more you save – the more viable your product becomes from the very start.
Accelerate Your Go-To-Market Timeline
Building a team and then bringing in operational efficiencies take some time. Rather, you can rely on an experienced outsourced dedicated team to get you on the road faster. Also, their process ensures more efficiency.
Complete Transparency And Round The Clock Support
These dedicated app development teams, like your in-house teams, provide timely and regular updates, including daily meetings, status updates, or any other form of communications. There may be some misconceptions about the communication concerns because of various time-zones. But if the company has a defined process in place, the time gap is used as an advantage. With constant updates, you are less likely to misunderstand or miss out on something. Besides, you always know your team's progress scale.
Access To Expert Developers
When you choose a dedicated team, you get highly experienced developers who have already been working as a team and are involved in long-term projects. These experts have superior knowledge of programming and design. Your team starts from day 1. The team takes care of the complete development, as well as maintenance and post-launch support. What more do you want?
Improved Compliance
The development company is going to take care of all legal, HR, and software compliance so that you can focus on your product and its promotions. It takes a substantial amount of time off of your shoulders, giving you the time to concentrate on what you do best.
Web and Mobile App Development Post-Pandemic
Keeping the current situation in mind, it seems like a remote workforce will become the new normal. According to reports, over 70% of the organisations believe that at least half of their workforce will likely be digital workers post Coronavirus. As the next normal takes shape, some organisations realise the fact that we are moving towards complete digitisation. They are seizing the opportunity and choosing to rely on outsourced dedicated teams for the developing, maintenance, and support requirements. And you should too!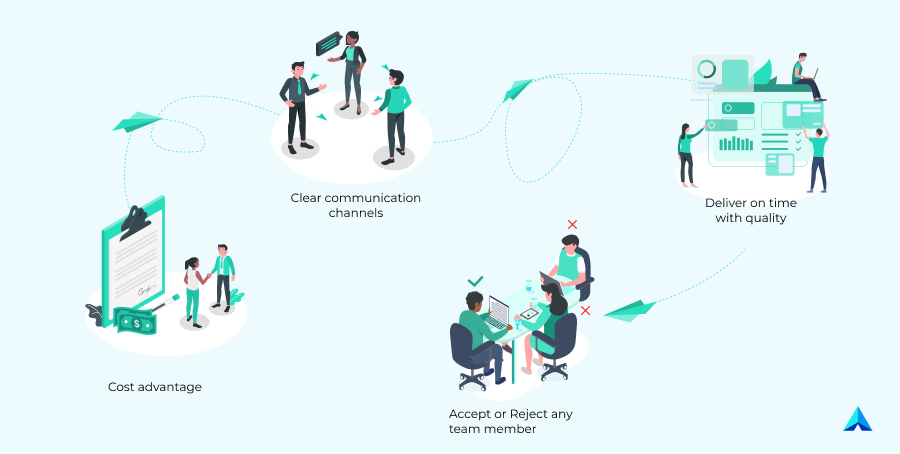 Why Should You Choose Mass Software Solutions As Your Dedicated Team?
We build partnerships and create smart solutions that help global brands unlock new opportunities. Our team consists of innovative minds who are passionate about creating digital products that drive growth and add true value to your business. Besides developing world-class applications, we also provide 24/7 application support, post-launch development, UX maintenance, performance monitoring and much more. In addition to that, we provide:
Cost advantage – You only have to sign a minimum 2 months contract.
Technical expertise and proven experience to handle/develop the project.
Clear communication channels. You are always in the loop and on top of the project,
Tested and calibrated Project Management Processes. Adept at using online PM tools.
Deliver on time with quality and no cost overruns.
An established player with sound references.
A team with the ability to scale up at short notice if the situation demands.
You have the right to accept or reject any member of the team. You can take Skype interviews with all the team members. You also get a dedicated company contact who provides quick resolutions to all your concerns within a remarkably short time.
If you are looking for a dedicated team for your app development requirements or have any queries about hiring one, we at Mass Software Solutions can help. Feel free to contact us.